French open 2011 mens final point Rafael Nadal
Nadal juara Terbuka Perancis


2011/06/06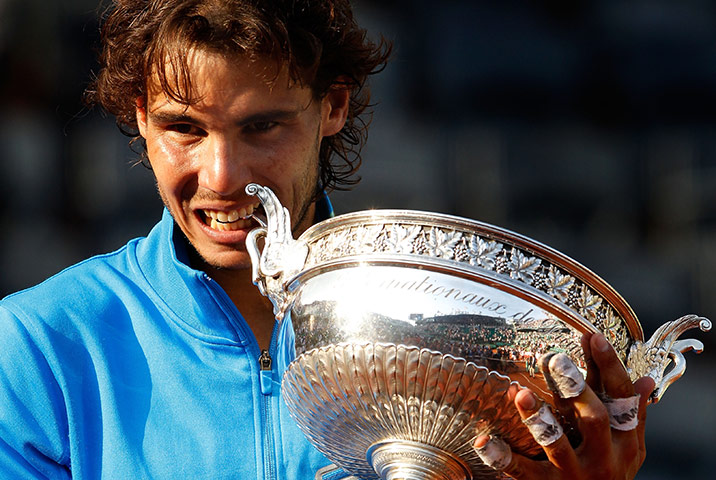 PARIS: Pemain tenis nombor satu dunia, Rafael Nadal menjuarai Terbuka Perancis apabila menewaskan pemain Switzerland, Roger Federer 7-5, 7-6, 5-7, 6-1 pada perlawanan akhir, sebentar tadi.
Nadal yang juga pemain pilihan pertama bagaimanapun diberi tentangan sengit oleh Rederer pada set ketiga sebelum Nadal bangkit untuk merampas set keempat bagi mempertahankan kejuaraannya itu.
Ia adalah kejuaraan keenam Nadal bagi Terbuka Perancis.
Source:
http://www.bharian.com.my/bharian/articles/NadaljuaraTerbukaPerancis/Article
____________________Franceopen-tennis______________
Nadal Beats Federer to Collect Record-Tying Sixth French Open Tennis Title
Jun 6, 2011 6:01 AM GMT+0800
Rafael Nadal yesterday clinched a record-tying sixth French Open title by beating Roger Federer, allowing the Spaniard to retain his No. 1 ranking.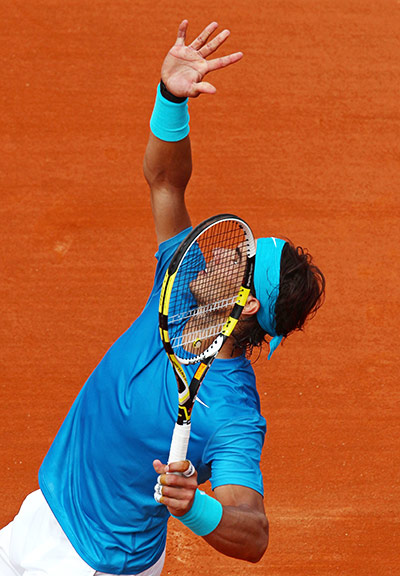 The left-hander sank to his knees after retaining his crown by defeating the Swiss 7-5, 7-6 (7-3), 5-7, 6-1 on the red clay in Paris. His victory ties him with
Sweden
's Bjorn Borg, who won six Roland Garros trophies from 1974 to 1981, the highest tally in tennis's Open era. Nadal received the Coupe des Mousquetaires from two-time champion
Jim Courier
.
"This is a very, very special moment for me," Nadal, 25, said in an interview at the side of the main Court Philippe Chatrier. "I've won against the best player of all time. It's a very emotional moment for me."
Federer last beat Nadal in a Grand Slam final at Wimbledon in 2007. The win extended Nadal's head-to-head record against the right-hander to 17-8.
"He beat me again," Federer, 29, said at the trophy ceremony. "Of course I'm sad, but I'm proud with how I've played in the past two weeks."
Federer made 56 unforced errors, while Nadal had 27. The Swiss produced 53 winners, 14 more than his opponent.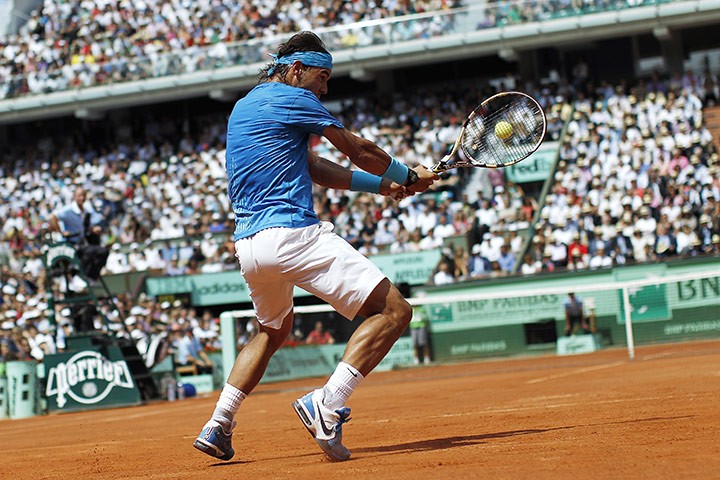 Federer last won a major at the 2010 Australian Open, where his defeat of Britain's
Andy Murray
extended his men's Grand Slam singles title record to 16 trophies. Nadal has now beaten Federer in four French Open finals. Before yesterday, the two last met in a major final at the 2009 Australian Open, which was won by Nadal and reduced Federer to tears at the trophy ceremony.
____________________Franceopen-tennis______________End