Bisa Giggs (11)
Muncul pemain tertua jaring gol Eropah
LONDON: Pada usia 37 tahun 148 hari, Ryan Giggs muncul pemain tertua menjaringkan gol dalam kancah bola sepak Liga Juara-Juara Eropah apabila menyumbang satu gol ketika membantu Manchester United menewaskan Schalke 04 dalam perlawanan separuh akhir pertama, awal pagi semalam.
Hanya senyuman lebar dapat dilihat pada wajah Alex Ferguson yang menjadi segelintir pengurus yang memiliki bekalan pemain cukup untuk dipertaruhkan bagi cabaran di saat genting ini.
"Anda lihat ada petanda kemerosotan dalam permainan Giggs pada usia 37 tahun? Saya rasa tidak," kata Ferguson yang menghambur pujian ke atas pemain veteran yang menyumbang gol pertama manakala Wayne Rooney menguatkan cengkaman Red Devils ke final dengan gol kedua.

Schalke 04 jelas tertekan selepas tewas di gelanggang sendiri dan mengharapkan satu keajaiban membantu cabaran mereka dalam perlawanan kedua.

"Manchester berada pada tahap berbeza berbanding Inter Milan (dalam suku akhir). Kami perlu satu bantuan tuah yang lebih besar untuk mara," kata jurulatih kelab Jerman, Ralf Rangnick. - Agensi
__________________________________________giggs__________
Has Manchester United legend Ryan Giggs surpassed the achievements of Paolo Maldini?
Welsh winger's team-mate claims he has overtaken Italian icon
Ryan Giggs
celebrated 20 years in the
Manchester United
first-team this week by coming off the bench against
Chelsea
to equal Sir Bobby Charlton's all-time record of 606 league appearances for the club.
The 37-year-old has been an integral part of Sir Alex Ferguson's side since he made his league debut as a fresh faced teenager on March 2, 1991, and after signing a new one-year extension to his contract he is set to continue playing into 2012.
The Welshman has had a remarkable career at the top level and he has won every domestic honour that there is to be won in England.
This has drawn comparisons with retired Italy legend defender Paolo
Maldini
, who continued playing until he was 40.
Red Devils defender John
O'Shea
insists his club team-mate has even surpassed the achievements of the AC Milan player, who played 902 times for the club in 25 seasons.
Giggs
still has some way to go to catch that figure, but
Goal.com UK
has decided to compare the two legends of the game.
____________________________________________________________
Giggs Achievement's

Ryan Giggs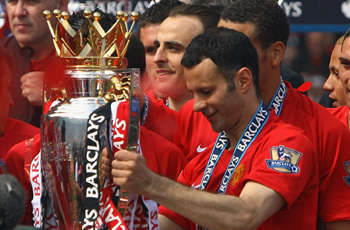 Nationality: Welsh
Age: 37

Clubs: Manchester United
United debut: March 2, 1991 v Everton
Seasons at the club: 20 and counting

Position: Midfielder
Appearances: 863
League appearances: 606
Goals: 158
International caps (goals): 64 (12)

Major honours: 32

Domestic honours: 11 Premier League titles, four FA Cups, four League Cups, eight Community Shields

European honours: Two European Cups, one European Super Cup, one Fifa Club World Cup, one Intercontinental Cup
Individual honours: PFA Player of the Year 2008-09, PFA Young Player of the Year 1991-92 and 1992-93, PFA Team of the Year nine times, BBC Sports Personality of the Year 2009, BBC Wales Sports Personality of the Year 1996 and 2009, Order of the British Empire for his services to football 2007

Records:

Giggs has the most Premier League appearances for an outfield player

He is the only player to have scored in all 19 seasons of the Premier League
He is 14th in the overall list for Champions League all-time goalscorers and he is the leading British player in the list
Most appearances by a Manchester United player
Equal with Sir Bobby Charlton for the most number of league appearances for United with 606
__________________________________giggs____
Ryan Giggs – A True United Legend
Read more:
http://www.manutdtalk
Giggsgiggsgiggsgiggsgiggs______________End_________giggsgiggsgiggs
An old man/ a legend......a hero...!