WATCH VIDEO:MESSI (BARCELONA) SCORE 2 GOAL OVER REAL MADRID
..
Dua jaringan Messi aibkan Real Madrid
MADRID: Dua jaringan Lionel Messi menjulang Barcelona bagi menghampiri aksi final apabila mengaibkan musuh terdekatnya Real Madrid 2-0 dalam pertemuan separuh akhir pertama Liga Juara-Juara Eropah di Stadium Estadio Santiago Bernabeu, sebentar tadi.
Penyerang antarabangsa Argentina itu meledak pada minit ke-76 dan melakukan larian solo menewaskan tiga pertahanan Real sebelum menguis masuk ke gawang pada minit ke-87
WHAT A BEAUTIFULL GOAL BY MESSI
Barcelona yang mendominasi perlawanan mencuri kelebihan apabila pemain tengah Real, Pepe dilayangkan kad merah pada minit ke-63.
Jurulatih Real, Jose Mourinho yang berang dengan tindakan pengadil, Wolfgang Stark dari Jerman juga dilayangkan kad merah dan diperintah duduk di bangku penonton dengan kawalan pegawai keselamatan.

Dengan keputusan itu, Barca hampir pasti ke final di Stadium Wembley, London sama ada menentang Manchester United atau Schalke 04. Semalam United juga menang 2-0 ke atas Schalke di gelanggang lawan.

Barca akan bertemu semula Real di Barcelona Selasa depan untuk perlawanan separuh akhir kedua dengan kelebihan dua gol di tempat lawan.
______________________________________________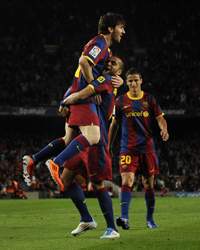 After an hour of scuffles, handbags, dives and temper tantrums, in Real Madrid and Barcelona's Champions League semifinal first leg match, Pepe was sent off for a questionable high boot against Dani Alves and Lionel Messi took that as his cue. With Real a man down and Jose Mourinho (who was sent off himself for winking and sarcastically applauding the officials after the Pepe red card) passing notes from the stands, Messi once again proved how difficult it is for him to go a whole match and not score a goal by netting two in the final 15 minutes.
His second goal (see video above) was something that is already getting compared to everything from video games to Maradona, but in truth, it's just Messi doing what he does. Sergio Busquets gave him the ball and let him go on his way like a super charged wind-up toy.
So, Barca take a 2-0 lead into the second leg as Mourinho and his tactics were both vanquished in this round of the never-ending series of Clasicos. But, there's still that second leg to go, which is plenty of time for both sides to do more combusting.