29/05/2011-04:54am
THE BIGGEST GAME OF THE YEAR....
BIGGEST REWARDS FOR GAME RECORDS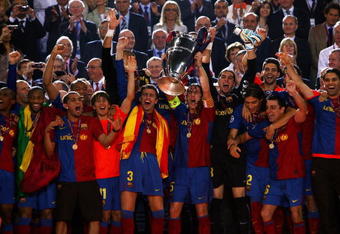 _____________________________________________
Barça crowned as Messi and Villa see off United
Published: Saturday 28 May 2011, 23.30CET
FC Barcelona 3-1 Manchester United FC
Second-half goals from Lionel Messi and David Villa ended United's challenge at Wembley and earned a fourth European title for Barça.
Lionel Messi wheels away in delight after putting Barcelona ahead at 2-1 in the final
Just as in 1992, Wembley provided the setting for a Catalan celebration as FC Barcelona turned on the style to beat Manchester United FC 3-1 and claim their fourth European crown.
Barcelona were worthy winners, taking the lead through Pedro Rodríguez and responding to Wayne Rooney's equaliser with two superb second-half strikes from Lionel Messi and David Villa.
If Barça's triumph at the old Wembley broke down a barrier, this underlined the Spanish titleholders' status as the continent's dominant force – their third UEFA Champions League in six seasons conferring the stamp of greatness on Josep Guardiola's side. For United, it was a sorry repeat of the Rome defeat by the Blaugrana two years ago. There were dancers with umbrellas in the opening ceremony and even the simulated sounds of a storm but it was on the pitch that lightning eventually struck twice.
For a short while, it looked like things might turn out differently for the English champions. Sir Alex Ferguson selected an attacking formation, resisting the temptation to pack his midfield and instead fielding both Javier Hernández and Rooney in attack. As in Rome, his team raced out of the blocks, pushing up and aiming to deny Barcelona the time and space to find their stride, and briefly the ploy worked. Barcelona seemed edgy as Hernández hustled a defender into losing the ball on the edge of his area; Javier Mascherano, starting in central defence in place of Carles Puyol, then failed to deal with Edwin van der Sar's punt down the middle, forcing Valdés into urgent action to deny Rooney.
Inevitably, though, Barça clicked into gear, and they fashioned the first clear opening on the quarter-hour as Xavi Hernández drove in a low cross that Pedro, drifting free of Fabio, turned wide. Barcelona soon had United pinned back as more chances came. Villa flashed a shot narrowly wide before forcing a low save from Van der Sar. A superb Nemanja Vidić challenge then foiled Messi yet, in the 27th minute, United were undone.
Xavi was the architect, advancing into United territory and picking out Pedro with a diagonal pass. The winger's movement had carried him clear of Vidić on the right side of the box and he applied a cool finish, sidefooting the ball into the near corner with Van der Sar wrongfooted.
Amid the many predictions about this contest the general consensus appeared to be that United needed the first goal. However, they responded seven minutes later with a fine equaliser, their first attempt on target. After Barcelona had lost the ball from an Éric Abidal throw-in, Rooney surged forward on a one-two with Michael Carrick. He then slipped a pass to Ryan Giggs inside the area and met the Welshman's return ball with a superb curled finish into the far corner.
Sir Alex had anticipated "the final of the decade" and an absorbing first half almost produced another goal when Messi drove forward and after feeding Pedro on the right, was just a whisker away from meeting the return.
United's respite was short-lived as Barça resumed control after the restart. Although Van der Sar saved from Daniel Alves, Messi restored their advantage after 54 minutes. Collecting a pass from Messi, the Argentinian cut inside Patrice Evra and punished Vidić's failure to close him down by sweeping the ball past Van der Sar from 20 metres. Messi's ensuing explosion of emotion showed just what the goal – his first on English soil but 12th in this season's competition – meant.
The little magician could have had more goals as Barcelona went for the kill. Van der Sar denied him with his legs before Fabio kept out his back-heeled effort with a goal-line block. Van der Sar, on his final appearance, offered a fitting reminder of his class with a full-length dive to foil Xavi yet he had no chance with Villa's third goal after 69 minutes.
Although United stopped Messi's surge into the box, substitute Nani lost out to Sergio Busquets who teed up the Spain striker to curl an exquisite finish into the top corner.
Messi goal

______________UEFAChanpionsLeague____________