What is
frig
htful was happen.....what's next!?
Now radiation in Japan is as bad as Chernobyl as crisis level is raised to 7 for only the second time in history
By RICHARD SHEARS
Last updated at 10:06 AM on 12th April 2011

-Spread of radioactive particles is 'out of control'
-Further earthquakes could worsen problems at the Fukushima plant
-Total radiation released 'could exceed Chernobyl', officials admit
Not a living soul in sight: An empty street under the surreal light of an evening in the exclusion zone


Japanese officials admitted today that the spread of radiation from its crippled nuclear plant was out of control and that the government had raised the crisis level to the worst on the international scale.
With radioactive substances pouring out a 'wide area' the crisis level had been raised from 5 to 7, posing a threat to human health and the environment.
Level 7 has only been applied to the Chernobyl accident in the former Soviet Union in 1986.
A fresh 6.3-magnitude aftershock rocked the plant today, forcing Tokyo Electric to pull out their workers as a precaution.
They have been working round the clock since the 9.0-magnitude megaquake on March 11 but have been impeded by the continued aftershocks.
An unnamed official from Japan's Nuclear and Industrial Safety Agency (Nisa) said the amount of radiation leaking from the nuclear plant was around 10 per cent of the Chernobyl accident.
The level 7 signifies a 'major accident' with 'wider consequences' than the previous level, according to the standards scale.
Memorial: A group of Japanese Shinto priests (on the left) and Buddhist monks at Yugihama Beach during a pray for Japan memorial event in Kamakura, Kanagawa Prefecture

Read more:
http://www.dailymail.co.uk/news/article-1375981/Japan-nuclear-crisis-Radiation-bad-Chernobyl-level-7-reached-2nd-time-history.html#ixzz1JIZvuMjJ
More pic/read more /pls click:
>
Inside the abandoned homes of Fukushima: Haunting images of the tsunami-ravaged exclusion zone
>
As Japan honours its 25,000 dead exactly a month after tsunami struck, ANOTHER earthquake strikes off the SAME coast
--------------------------------------------------------------------------------------------------------------------
--------------------------------------------------------------------------------------------------------------------

Japan raises nuclear crisis to same level as Chernobyl
Tuesday April 12, 2011
By Shinichi Saoshiro and Yoko Nishikawa
TOKYO (Reuters) - Japan put its nuclear calamity on a par with the world's worst nuclear disaster, Chernobyl, on Tuesday after new data showed that more radiation leaked from its earthquake-crippled power plant in the early days of the crisis than first thought.
Japan's Nuclear Safety Agency official Hidehiko Nishiyama speaks during a news conference on the announcement on nuclear accident severity level in Tokyo April 12, 2011. (REUTERS/Yuriko Nakao
Japanese officials said it had taken time to measure radiation from the plant after it was smashed by March 11's massive quake and tsunami, and the upgrade in its severity rating to the highest level on a globally recognised scale did not mean the situation had suddenly become more critical.
"The situation at the Fukushima Daiichi plant is slowly stabilising, step by step, and the emission of radioactive substances is on a declining trend," Prime Minister Naoto Kan told a press briefing on Tuesday.
He also called on opposition parties, whose help he needs to pass bills in a divided parliament, to take part in drafting reconstruction plans from an early stage.
"Our preparations for how to measure (the radiation leakage) when such a tsunami and earthquake occurred were insufficient and, as a result, we were late in disseminating information internationally," said a senior official in Kan's office.
Hidehiko Nishiyama, a deputy director-general of the Nuclear and Industrial Safety Agency (NISA), said the decision to raise the severity of the incident from level 5 to 7 -- the same as the Chernobyl disaster in Ukraine in 1986 -- was based on cumulative quantities of radiation released.
As another major aftershock rattled the earthquake-ravaged east of the country a fire broke out at the plant, but engineers later extinguished the blaze.
However, the operator of the stricken facility appears to be no closer to restoring cooling systems at the reactors, critical to lowering the temperature of overheated nuclear fuel rods.
No radiation-linked deaths have been reported since the earthquake struck, and only 21 plant workers have been affected by minor radiation sickness, according to Chief Cabinet Secretary Yukio Edano.
"Although the level has been raised to 7 today, it doesn't mean the situation today is worse than it was yesterday, it means the event as a whole is worse than previously thought," said nuclear expert John Price, a former member of the Safety Policy Unit at the UK's National Nuclear Corporation.
"NOWHERE NEAR CHERNOBYL"
A
level 7 incident
means a major release of radiation with a widespread health and environmental impact, while a 5 level is a limited release of radioactive material, with several deaths, according to the International Atomic Energy Agency (IAEA).
-----------------------------------------------------------------------------------------------------------
Japan Raises Severity Rating At Fukushima Disaster To Chornobyl Level
Tuesday,April 12,2011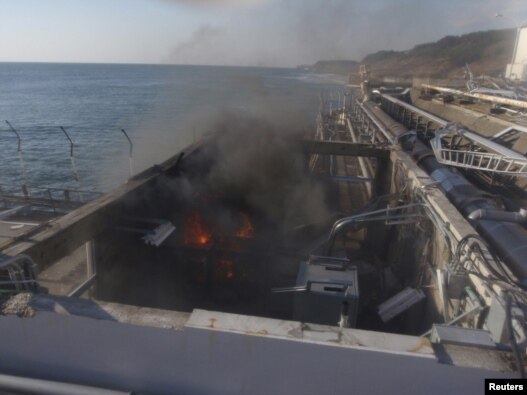 Fire and smoke in a building near Reactor No. 4 at Fukushima on April 12,2011
Japan today raised the severity of the crisis at its crippled Fukushima Daiichi nuclear power plant to the highest level -- putting it on a par with the world's worst-ever civilian nuclear accident, the 1986 Chornobyl disaster that spread radioactivity across much of Europe.

Japanese nuclear regulators cited cumulative radiation leaks that have contaminated the air, tap water, vegetables, and seawater as the reason for raising the warning level from 5 to 7 -- the highest level on an international scale that is overseen by the International Atomic Energy Agency.

The intensified warning comes after new government assessments of radiation leaks from the Fukushima nuclear power plant that was disabled by the March 11 tsunami.

According to the IAEA, the new ranking signifies a "major accident" that includes widespread effects on the environment and health.

But Hidehiko Nishiyama, a senior official of Japan's nuclear safety agency, is playing down the risk of any health effects so far.

"Based on data we've collected since March 18th, we've given this a preliminary rating of 7," he said. "However, the emission of radioactive substances is about 10 percent of the amount of Chornobyl, which is rated at a similar level."
-----------------------------------------------------------------------------------
7 – Major Accident
6 – Serious Accident
5 – Accident With Wider Consequences
4 – Accident With Local Consequences
3 – Serious Incident
2 – Incident
1 – Anomaly
0 – Deviation (No Safety Significance)
World become more damages....Japan land sure be wasted after this.